This article discusses RINA's views on the need and essential elements of site inspector training for LPG Ship newbuilding and whether it is as some think an optional extra.
Summary
A well trained shipyard site team will benefit the construction of an LPG carrier from both the owner and shipbuilder's perspective, the owner by ensuring the quality and operability of the LPG carrier, the shipbuilder by having expert inspectors who work together as a team in partnership with the shipyard thereby ensuring that the production process runs smoothly with minimum disruption. The increased demand for shipbuilding worldwide, entrance of new shipbuilding countries and the demand for qualified resources led RINA to develop a series of Safety while Working on Marine Transport Over Water and Under Watertraining courses for owner's newbuilding site teams.
Introduction
In the modern marine industry, the requirement for training for all elements of ship management and operation is well established internationally. There is the ISM Code which gives requirements for ship management on board as well as ashore and includes training. There is the STCW Code setting minimum standards for watch keepers. There are international requirements for ships officers for cargo specific endorsements such as petroleum and gas. Standards of competency from organisations such as SIGTTO.
Requirements exist in all areas except that of newbuilding. There are no standards or requirements for the experience and training of owner's newbuilding inspectors. It could be argued that there is no requirement for an owner to supervise the construction of a vessel, and whilst this may be true there will come a time when owner's staff attend the vessel in the shipyard prior to delivery and then without some understanding of the newbuilding process there exists the potential for problems.
The importance of building a ship correctly, to budget and on time is well known, but in new construction supervision there is often very little invested in training and the importance of a well-trained owner's inspectors is often over looked.
This is a concern when you consider that not getting it right at the beginning of the vessels life can have severe financial implications through the service life of the vessel.
For example, a seemingly minor problem effecting the tank insulation could lead could require operation of the reliquifaction system longer and more often, with the subsequent increase in maintenance and fuel consumption.
LPG newbuilding
There has been a large increase in world shipping and this increase has affected LPG shipping as much as other shipping areas and resulted in the shortage of new build inspectors across all ship types.
The increase particularly within the LNG Sector has further added to this problem as there is an increase in the number of inspectors with experience of LPG new construction being attracted to higher profile LNG newbuilding supervision teams.
The increase in the fleet can be seen in Fig. 1 and 2. As well as an increase in the size of the fleet there has been a corresponding increase in the number of owners, operators and new ship building companies. This increase has not been matched by a corresponding increase in skilled managers, officers and crews, leading to the stretching of the current skilled resources that are available. In the area of crewing and management there is a lot of work being undertaken by organisations such as SIGTTO in accrediting training programs and setting minimum competencies of officers and crews in order to bridge this skills gap.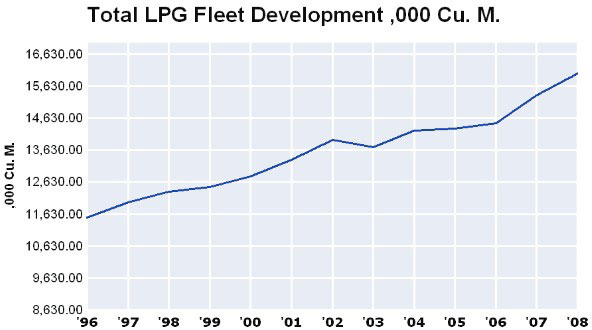 In the area of management OCIMF's Tanker Management Self-Assessment (TMSA) scheme is helping to focus ship managers and operators training programs in order to address the skills gap. Many training courses offered by class societies already meet this requirement but are aimed at superintendents and ships officers specifically for vessels in service. There are a number of training courses offered which are aimed at helping the shipyards improve and train their workers. However, the newbuilding inspector needs some knowledge from both sides.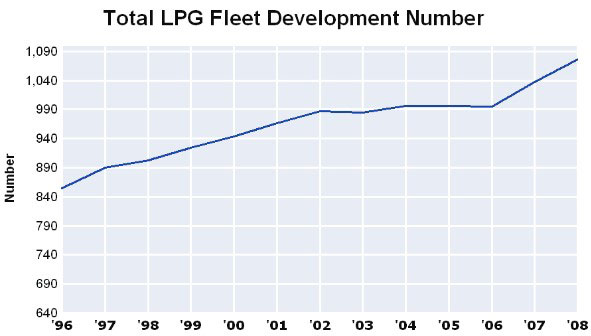 It was with this in mind that RINA set about addressing the situation by developing a training course specifically for newbuilding site inspectors.
Current situation
Many new inspectors do not come from a shipbuilding background, but most do have some seagoing background but in this case their experience of shipyards is generally limited to repair yards. This seagoing background is a good base for looking at operational aspects of LPG vessels while under construction, but in many cases may be inadequate for understanding the rules, processes and the complexities of the modern LPG carrier building process. In the worst case this lack of knowledge and experience can cause unnecessary problems, leading to delays and over run of costs.
The overall situation has been further exacerbated recently by the unprecedented changes in rules and legislation and its speed of implementation.
Some examples:
CSR.
PSPC.
Construction Standards.
Shipbuilding Inspection standards.
Future IMO Goal Based Standards.
An owner's site team should ensure that a vessel is built to the agreed contract specification. A good team however will be able to do this and minimise potential delays due to inconsistent inspections, lack of knowledge of LPG carriers. Consistency during inspection and patrolling is essential to ensure that potential problems are discovered early enough for corrective action to be taken in co-operation with the builder in time to avoid adverse impact on the production schedule, quality of the vessel.
The only way to ensure this consistency and understanding is to invest in training of those inspectors.
Training programs
One of the first aims of any training program should be to enable the inspectors to be able to work together as a team. This team work however should not just be in co-operation with each other but also with the shipyard, classification society and designers. One of the key elements is to understand the roles of these other members of the site team, the roles of all people involved in the newbuilding process and the interaction between them.
A team is only a strong as its weakest member.
Another aim of the training should be to provide inspectors with tools and procedures to undertake their work consistently. This way a methodical approach will enable the inspectors to be thorough, will increase the transparency of the construction process, reliability of inspections and help to ensure the quality of the delivered vessel whilst at the same time minimising the potential for delays and disruption.
Another goal should be to help inspectors understand the rules, regulations and standards as applied to newbuilding's. It would not be possible to make them experts in all of these areas, classification societies have to invest large amounts in training to ensure surveyors are up to date, it is however practical to give the inspectors the guidance on where to look and understand the various regulations and requirements.
Training modules
In developing its training courses RINA identified a number of modules that would benefit, and could be delivered to all the inspectors of a site team irrespective of their technical discipline. The key areas identified below.
Health & Safety
With many new inspectors coming from a non-shipyard background it is important to identify the particular problems and hazards associated with a newbuilding yard and the construction process, in order to ensure both their safety and the safety of those around them.
The topics covered include:
Access to the vessel;
Emergency response;
Housekeeping;
Personal Protective Equipment;
Working at Heights;
Lifting;
Welding;
Testing;
Enclosed Spaces.
Key contract documents
A Specification
Many inspectors are familiar with the section of the specification relevant to their discipline, but are not as familiar with other areas of the contract specification which may affect them and which may not be immediately apparent.
For example, procedures and requirements for the purging, drying and protection of cryogenic valves and piping are often contained within a general section relating to shipyard standard procedures or industry best practices not in the cryogenic section.
Within the piping and machinery section there maybe references to instrumentation and cabling installation that are not in the electrical control section. In many cases the sections have been put together by different people so there are contradicting requirements. The training course should take the specification which should relate to the team being trained but could also use generic one, and highlights the key areas with which inspectors should be familiar and where supporting information may be found.
B Shipyard Standards
The old school report joke about "setting high standards and consistently failing to achieve them" can be particularly true in a shipyard under commercial or production pressures. It is important that the inspector is aware of the agreed shipyard standards and the process of modifying them should that be required particularly where they may be in conflict with the specification.
Key rules & requirements
Classification Societies are required to invest a lot of time and resources in updating and training surveyors in changes within the society's rules. These changes maybe internal or they maybe externally driven for example by IACS requirements. For an inspector who over the course of his career may work with many different societies it will not be easy to keep on top of these, but understanding the processes and purpose behind them, as well as how to navigate through the rules, requirements and guidelines will go a long way towards helping an inspector in his work.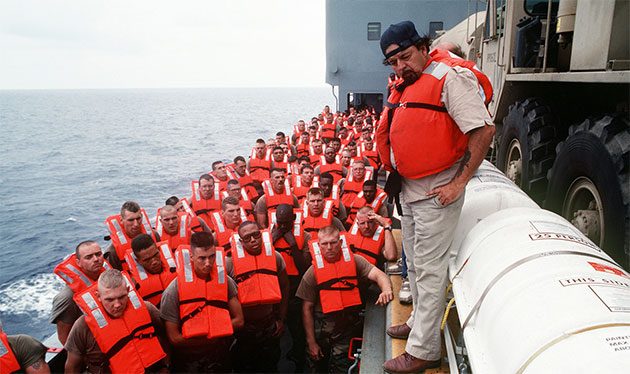 This updating is not just relevant to the rules of a society but it also applies to international regulations, national regulations, and also industry best practice. An inspector needs to understand not just the content of these rules, requirement & regulations but also the relationship
between them all. This relationship can be particularly confusing for example with IMO Circulars, Codes (such as the IGC), Resolutions and guidelines, where some cases guidelines maybe made mandatory by a resolution or regulation.
Read also: Prospects of Liquefied Petroleum Gas Industry and Why it is a Growing Market
A training scheme should provide simple tools such as flowcharts and diagrams to help understand these relationships and links.
Overview of different disciplines
Whilst undertaking his own work an inspector will see things that are the responsibility of inspector of another discipline. Even some basic knowledge of the other disciplines would enable an inspector to spot something that doesn't look right and report it through the appropriate channels in order to get it investigated. Also in the course of his work the inspector may have to make decisions that will have an impact on another discipline, understanding the possible extent of this impact is important.
Coatings are the most obvious example.
Some typical contents of the different disciplines:
A Steel & Structures
This should include an overview of the vessels
construction and arrangements.
It should also contain information on types of materials, welding and NDT techniques. Basic information such as reading of drawing symbols.
Common defects encountered.
B Coatings
This is one area of ship construction where there is always pressure on production as so many variables can impact on it. Coating is a key area where even basic understanding can help to prevent damage and the problems associated with rework. All inspectors should have some basic knowledge of the coating process, particularly in important areas such as ballast tanks and void spaces, where rework due to damage can be difficult and time consuming. An example is the simple request to weld and extra bracket on the deck. The damage caused to the underdeck coating maybe in accessible.
Undetected or unrepaired this will be a source of future corrosion problems. The subjects covered should include:
Coating process.
An overview of the different coating types and systems, limitations on their use and application.
Surface preparation requirements.
Thickness measurements.
Common defects encountered.
C Cryogenic & Containment Systems
New inspectors may not have any experience of cryogenic or LPG containment systems, it is important for them to have at least a basic understanding, whilst inspectors for these systems should have an in depth knowledge. Whilst classification society may survey the vessel under construction to ensure it meets the minimum safety requirements of the society and if appointed the flag administration. It is in the interest of the operator who has control of the vessel through its service life to ensure that all the quality controls are followed and verified, to ensure the efficient operation of the vessel is not impaired.
Items such as:
The density of insulation materials, mixing and curing of adhesives for the containment system.
Alignment and tolerances of the containment system supports and materials.
Inspections of welds and joints.
Alignment, purging and drying of pipelines and machinery.
Cleaning and passivation of cryogenic piping.
Expansion and contraction arrangements and supports.
Problems in some areas may not have a direct impact on safety and therefore not surveyed by class, will have a big impact operationally. Access for in service inspection and maintenance is one example.
Training of other disciplines covering items such as:
Piping & Machinery.
Electrical.
Safety Systems.
Whilst they are common to most vessels, they should be covered and attention paid in particular and items specific to construction of LPG vessels and their systems should be covered. Items such as reliquifaction plant, gas detection, dry powder systems.
The broadening of the knowledge of inspectors across all disciplines will enable greater co-operation, the outcome being better supervision and product quality.
Inspection & test procedures
Training should tools and procedures for inspection and testing, whilst these may vary from shipyard to shipyard it is possible to train the inspector to approach these systematically and therefore giving him the ability to adapt to different environments without sacrificing diligence. This training should include ensuring familiarity with the documentation, the systems, the test procedure and recording of the outcomes.
Applying consistent standards to the above elements will ensure that inspection items are systematically checked off, and non-conformities highlighted so that at any time all parties involved can see the status of the construction process. This avoids something being overlooked and causing a problem at a later stage in the construction schedule when it is more difficult to correct.
Commissioning, gas trials & sea trials
An area where training is important is commissioning as it has a high potential for problems that can delay.
For example, as a result of incorrect commissioning sequence, poor record keeping and overlooking of faults.
This is more likely when the delivery date is approaching and expensive manufacturer's commissioning and service engineers waiting on site. With the pressure to meet delivery schedules the opportunity to cut corners can be attractive to some however the consequences of not commissioning methodically may have far reaching consequences, with the owner having to live with these for some time. There is always a settling in period with any new vessel but the better the commissioning and testing then the shorter and easier this settling period should be.
Gas trials are essential to demonstrate the proper functioning and performance of the gas handling equipment. Some knowledge of LPG cargo handling and safety is important. Whilst the gas trials will generally be conducted with experienced personnel, all members of the site team who are in attendance should be aware of what will be happening, along with the associated dangers and hazards. Training for the site team should incorporate all these elements of safety and operation.
Conclusion
The value investment in newbuilding inspectors should not be underestimated, particularly in the area of specialised vessels such as LPG Carriers.
However good the design maybe, cutting corners on the quality of supervision may lead to a well-designed but poorly constructed vessel. If a vessel is badly designed, it may be possible with effective supervision to correct or modify things to improve the operability of the vessel.
Confident, diligent, well trained inspectors are assets to the site team. They are the keys to ensuring reliable, efficient, high quality LPG Carriers fit for purpose.